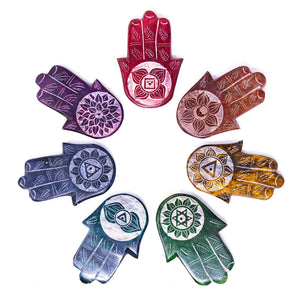 Each Hamsa hand is crafted from local Indian soapstone, dyed, and etched beautifully with a chakra design. There are seven colors: Orange, Yellow, Green, Teal, Purple, Blue, Red.
Dimensions: each hand is 4 x 2.5 inches.
It was included as the artisan miniature in the November 2022 themed "Holding" sandtray subscription box. 
If you would like sandtray miniatures delivered to your door each month, sign up today!
Story behind the Art:  The region of Uttar Pradesh, India is known for it hand-carved stone crafts that have been passed down for generations.  Artisans use hand tools to carve and smooth out the stone work Due to the handmade nature, slight variations in size, color, shape, pattern, or other characteristics may be evident. Each piece is truly a unique work of art, lovingly crafted by hand.