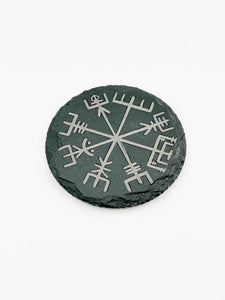 This gorgeous 4" black slate coaster features the Vegvisir symbology. Engraved in Maryland. 
The Vegvisir (Icelandic Vegvísir, "That Which Shows the Way;" pronounced "VEGG-vee-seer") is a symbol described only in one modern Icelandic collection of spells, the so-called Huld manuscript. That book has nothing more than this one sentence to say about it: "If this sign is carried, one will never lose one's way in storms or bad weather, even when the way is not known."
It was included in the "Casting spells and collecting charms" Feb 2023 monthly miniature themed  sandtray box.  
Sign up today to get miniatures delivered to your door each month.