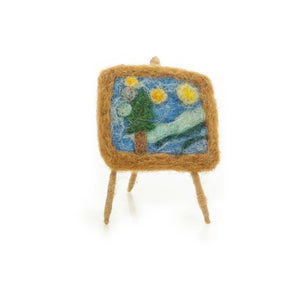 Starry Night masterpiece made of felt on an art easel.  This miniature artwork has been delicately handcrafted entirely from wool using traditional needle felting techniques, each one is truly a miniature masterpiece of their own. It has a brown felt frame, with felt wrapped wire legs, so each painting can stand freely.  
It was included as one of the artisan miniatures in the "Homey Spaces" March 2023 monthly miniature themed sandtray box.  
Sign up today to get miniatures delivered to your door each month.
Height:  3 inches