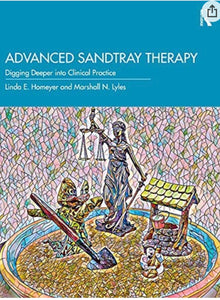 Advanced Sandtray Therapy deepens mental health professionals' abilities to understand and apply sandtray therapy.
Chapters show readers how to integrate clinical theory with sand work, resulting in more focused therapeutic work. Using practical basics as building blocks, the book takes a more detailed look at the ins and outs of work with attachment and trauma, showing therapists how to work through the sequence of treatment while also taking into account clients' trauma experiences and attachment issues.
This text is a vital guide for any clinician interested in adding sandtray therapy to their existing work with clients as well as students in graduate programs for the mental health professions.
Review
"From the opening poem, this book is an invitation into the mysteries of making healing worlds in the sand. Linda Homeyer and Marshall Lyles blend meticulous research about the efficacy and process of sandtray therapy with a poetic love affair with sand and miniatures, clients, and clinicians. Embracing therapists from many theoretical orientations who support a beautiful diversity of people, the authors provide solid ground for the advanced practice of this sacred healing art." ―Bonnie Badenoch, PhD, LMFT, cofounder of Nurturing the Heart with the Brain in Mind and author of The Heart of Trauma
"This is a book that fills a huge gap regarding the deeper practice of sand therapy. Reading it I thought of three symbols: 1) A star for illumination of what is not visible; 2) an anchor, for grounding in theory and history; and 3) a compass, for a reliable guide to knowing where we are and finding our way when uncertain or lost. Linda Homeyer and Marshall Lyles are a great team and I applaud this wonderful contribution to our growth using this approach we love so dearly." ―Eliana Gil, PhD, LMFT, RPT-S, ATR, founder of The Gil Institute for Trauma Recovery and Education, LLC
"Homeyer and Lyles talk about 'digging deeper' into the world of sandtray therapy and definitely deliver on that promise. In the sandtray therapy world, which is diverse in thought and application―and, sometimes not as theoretically and technically deep as need be―this is a refreshing addition. This book is a welcome companion to Homeyer and Sweeney's text and deserves to be on the shelves of both practitioners and educators." ―Daniel Sweeney, PhD, professor and director of the NW Center for Play Therapy Studies at George Fox University and coauthor of Sandtray Therapy: A Practical Manual
About the Author
Linda E. Homeyer, PhD, LPC-S, RPT-S, is a play therapist, sandtray therapist, author, and distinguished professor emerita at Texas State University. After thirty years of practice she is now semi-retired but continues to write and play in the clay in Texas.
Marshall N. Lyles, MA, LMFT-S, LPC-S, RPT-S, is an EMDRIA-approved consultant and has 20 years of experience as a trainer, author, and clinician in Austin, Texas, where he owns and manages The Workshop.
Product information
| | |
| --- | --- |
| Publisher | ‎Routledge; 1st edition (September 24, 2021) |
| Language | ‎English |
| Paperback | ‎246 pages |